Thank you so much for the invite Sarah!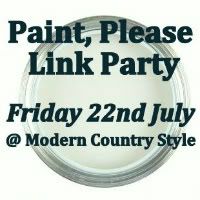 I LOVE paint! Pouring over colour swatches - seeing before and after pictures of rooms amazingly transformed - finding unloved pieces of furniture and bringing them to life. Nothing gives me more joy.
Paint doesn't scare me - in fact, paint and I are friends! There is not a week goes by that I haven't got
some
painting project on the go. My daggy "house" clothes are splattered with reminders of former projects -
oh look.....here's a blob of Antique White USA.....and what about this delightful Eye of Neut..... oh yes, and how could I forget Friendly Sky.......
Just look at this sweet little cupboard I found in my shed. So sad (and green!)
But with a lick of paint..........
It is transformed into a thing of beauty!
And what about this handy little
tool tote
I crafted out of unloved pallet offcuts.
Plain and boring one minute ..........
Fabulous and sunflowery the next!
And talking of Sunflowers .......
One canvas + paint =
One piece of Original Artwork.
Yes, I LOVE paint!
Now fellow paint lovers - I have a challenge for you......
I'm looking for suggestions.


This is another "find" from my shed and it is looking even more sad than my cute little cupboard.
(Oh look at all those gorgeous paint splotches on the ground - is that Friendly Sky I see??)
Anyway...... - this piece holds special memories for me.
You see........
28 years ago I sat on this very same rocking chair
and rocked my first born to sleep (many, MANY times... Colicky baby - you know the story)
It is now in serious need of a makeover.
So - what about it?

To paint (or not to paint)? Colour?
All suggestions gratefully appreciated - thank you.

Oh ..... and thank you Sarah for hosting this fabulous party......

Happy painting everyone!